tank top stolen from my sister's closet, Tango skirt, black socks, booties from eBay, Cotton On bucket bag
I usually throw a fit. I mean, I'm generally a pretty laid back and carefree kind of gal, but my inner spoiled brat tends to resurface every once in a while and I absolutely go nuts when something doesn't go my way. Life, however, has this funny and annoying way of playing games with you. One minute, it ruins everything you already had mapped out and you're just about ready to jump off a cliff, then the next thing you know, you find yourself having one (or three) of the best nights you've ever had.
Everything went wrong for Convi and me the past few days, I wanted to tear my hair out at certain points. We didn't push through with the play we'd planned on seeing for over a month because of ticket issues, we wasted one afternoon sleeping when we were supposed to go out shopping, and we had a bit of drama the night before Valentine's Day (I blame PMS). At the end of it all though, it really isn't about what you've got planned and forcing everything to be perfect, but about who you spend your days with and how you handle the little surprises that come your way, right?
We took a nice, long walk and spent all night talking instead of watching the play, we went on a fun evening drive to make up for the nap, and on Valentine's Day, we cuddled and ungracefully laughed over episodes of 30 Rock like the boring couple that we are. It was simple and wonderful and yes, I'm gushing. It hasn't been the over-the-top and whirlwind kind of romance most girls dream about, but the lazy days on the couch with our respective laptops kind that we have is perfect, and I wouldn't trade it for the world.
I know people are probably sick and tired of the explosion of cheesiness from the other day, but I had a really good Valentine's weekend, and I hope you did, too! Whether you're in a loving relationship or single and fabulous, I hope you continue to spread love even if Feb 14 is over!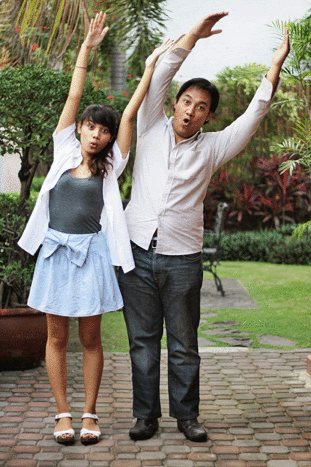 P.S. I just noticed that I talk so much about my boyfriend this might as well be his blog too. Haha, oh well.